Cowpod 1.0.1
Community Patch #2 Compatible
(Intro)
---
[ Intro | UI | Sorting | Restore | Paths | INI files | Lists | Fonts | Registry | Source | MTM2.com ]
---
Basic Info
At its core, Cowpod is a pod mounting utility just like many others that have come before it. Place it in your mtm2 folder, double click it (or put a shortcut on the desktop) and you can easily add and remove track and truck pods from your game.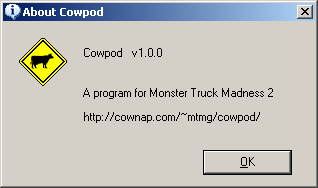 Download
Cowpod V1.0.1.exe
Note. If you do not know how to mount addons, then please see the beginners help page which you can find here.
Cowpod differs from other pod mounting programs in many ways. Here are some of them.
Features
Easy to use interface
Two viewing and selection modes (F8)

Side by side
Checked list

Both views can be refreshed (F5)
Both views can be sorted

Toolbar (toggle it with F4)
Menu
Command buttons

Launch the game right from Cowpod
Sorting Options
Unsorted
Alphabetically

Leave user specified number of pods at the top of the list
Reset the default mtm2 pods
Reset the minimal mtm2 pods only

Both will put fixmore4 on top
Both will check a "fixes" and a "stock" subdirectory (if they exist) for the stock pods.
Extra path options
Place pods anywhere on your computer
Read subfolders many levels deep
INI File options
Normal Save (as pod.ini)
Save as... any file name you want
Open a previously saved list
Send the list to notepad for direct editing
Error checking and cross referencing

Never write a bad ini file
Save lists without hassle
Open any list directly into cowpod

Use Open
Right click in windows explorer

Install any list without opening cowpod

Use special shortcuts
Right click in windows explorer

Create a quick-change shortcut on the desktop

Right click in windows explorer
Drag icon from desktop to 'quick launch' taskbar
Change the game fonts

Includes 6 presets
Or use any fonts on your computer

Turn on extra horns
Turn off Torture Pit
Use digital latency display
MTM2
Traxx 1.4

Delete traxx registration key
Reset it without typing

C-pod

Remove startup location problem
Or reset it to a viewable location
Lots of extras
Create shortcuts right from cowpod

on the desktop
on the startmenu

Copy to clipboard

Pod.ini list
Unused pod list
Selected check list
Unselected check list

Automatic game version detection

Displayed in the title bar
Automatic pod limit detection

Minimal nags
Does many things automatically
Ultimately leaves choices to the user
Contribute to the project
Learn for your own projects
---
Extra
Offline version of these pages provided by SLO_Papa
Extra help notes at Papa's site
A big thanks to him for putting all that together for us.



---
[ Intro | UI | Sorting | Restore | Paths | INI files | Lists | Fonts | Registry | Source | MTM2.com ]
---