To start out, create a new 180x180 pixel image, RGB Color mode. Not go over to the layers palette, and delete the 'Background' layer. Then, click the "New Layer" button, and make two new layers.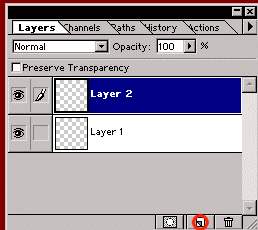 Make sure your grass texture is the active image, and press CTRL+A to select all. Now choose Edit>Define Pattern. After you've defined the grass as your pattern, make your new 180x180 image active by clicking it, and choose Edit>Fill. Before you do this, make sure to highlight "Layer 1" in the layers palette.
Now highlight "Layer 2" and fill it with your dirt texture. You should now have two layers, one grass, and one dirt.
This is a good time to check for any seams you might have missed. If you find some, activate the image that needs fixing, and use the offset filter on it. Then just fix them like you did before, and re-fill the layer with your fixed texture.
Now we need to set up our grids. Go to File>Preferences>Guides and Grides. Set the grid size to 60x60, and any color you want. Now choose View>Show Grid. This will help you in the next step.
In your Layers Palette, highlight "Layer 2" (your dirt layer). If layer 2 is not your dirt layer, just rearange them. Grab the Lasso tool, and select the area as shown below. Make sure you hit the grid corners. Try and make it look 'jagged'. This is the transition where the dirt will change to grass. It helps if you zoom in a few times before you start selecting. Also, make sure you have Antialiasing turned off.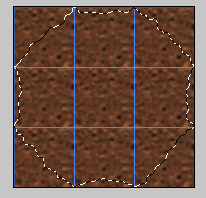 You should now have the middle area of your texture selected. We need to have the stuff outside of that selected, so we'll choose Select>Inverse. Your image should now look something like this.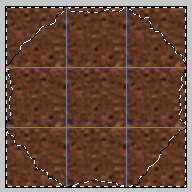 Now if yours looks like the image above, go ahead and hit Delete to get rid of the outsides. Does your image look like this? If not, you'd better look over some of the previous steps.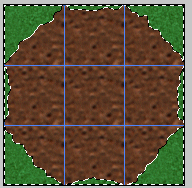 Now, hit CTL+D to deselect, and change the CANVAS size to 184x184 pixels (Image>Canvas Size).
After you resize the canvas, highlight the bottom layer (Layer 1, your grass layer). Fill it with the same texture you used before. Just fill right over with grass.
Next, make sure that you have the lasso tool selected, and CTRL+Click on the top layer (Layer 2). Your layer 2 dirt texture should now be selected (just the dirt, not the grass edges). Now just fill right over with your dirt texture again. It should sorta seem like the texture moved a little. This is normal. If it doesn't, don't worry.
If you want, deselect your dirt, and soften up the edges where the dirt meets the grass.
Now we just need to finish things up. Deselect everything, and resize your base textures back to 64x64. For all 3 of your images, choose Image>Mode>Indexed and set the colors to 256. Now just copy and paste into Traxx, and you're set!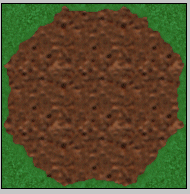 I would really like to thank RuDeE for teaching me how to make the textures align. If you have any questions or comments, feel free to email me.